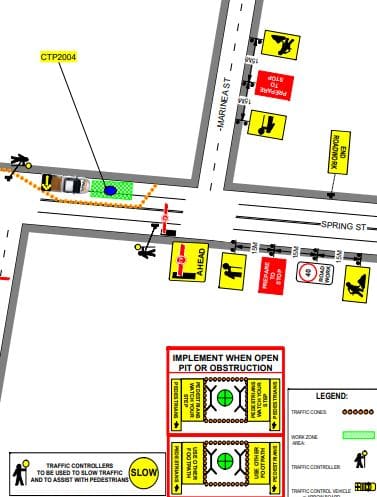 TRAFFIC CONTROL PLANS & TRAFFIC MANAGEMENT PLANS
TRAFFIC PLANS
TCP and TMP (traffic control plans and traffic management plans) are critical to ensure a smooth workflow from start right through to finish, no matter the job, big or small. And, some developments need to submit a construction traffic management plan (CTMP) to council for approval.

So, to get the relevant authority's approval and occupy the roadway, we handle the pre-work meeting sessions, planning document submissions, traffic management assessments, and control permits. But, also negotiation with contractors and road authorities, as well as insurance document checks.

And, as traffic planning specialists, we are one of the safest and most effective traffic control companies in NZ. In fact, we provide high-quality and fully-compliant traffic control plans in NZ. And, we are available 24/7, 365 days a year. So, get in contact with us to discuss the work process.
TRAFFIC MANAGEMENT SOLUTIONS
In compliance with the New Zealand Standards, we provide the following traffic management solutions to:
– Local and state authorities,
– Road maintenance providers,
– Utility/infrastructure companies, and
– Civil construction contractors
Traffic Control Plans (TCPs)
A Traffic Control Plan is a detailed drawing of the layout of temporary road signs and devices used to manage traffic at a worksite. For instance, it shows the location of signage and devices, pavement markings, barriers, arrow boards and/or variable message signage, and roadwork speed zones.
And, at Absolute Traffic Management, we have developed Traffic Management Plans for all kinds of scenarios and offer a comprehensive range of TCPs.
What is the purpose of a traffic control plan?
A good traffic control plan allows the contractor to work within the public right of way efficiently and effectively while maintaining a safe, uniform flow of traffic.
Traffic Management Plans (TMPs) / Construction Management Plans (CTMPs)
Also, a Traffic Management Plan (TMP) or Construction Traffic Management Plan (CTMP) details how your project will manage the risks associated with plant and vehicle traffic. In short, it is a report detailing the work to be undertaken, its impacts on the area, and how these impacts are to be addressed. And, it may include a number of Traffic Control Plans (TCP).
So, councils will usually require a TMP/CTMP for approval for a Development Application or for a larger scale event/project.
We assess your needs and develop custom CTMPs for a successful roadworks and construction project.
So, contact us if you need a plan that assesses impacts on the local road network created by development.
What should be in a traffic management plan?
Traffic management plans may include details of:
– the desired flow of pedestrian and vehicle movements
– the expected frequency of interaction of vehicles and pedestrians
– illustrations of the layout of barriers, walkways, signs and general arrangements to warn and guide traffic around, past, or through a work site or temporary hazard, and
– how short term mobile work and complex traffic situations will be managed.
Council, RMS, Police, STA and other Government bodies
Also, we handle RMS Road Occupancy License, Speed Zone Authorisation applications and approvals.
And, we help you liaise with Councils and RMS Asset Management, State Transit Authorities, for the other required approvals.
RMS ACCREDITATIONS
We Hold The Following RMS Accreditations.
Work Zone Traffic Control
Direct traffic in accordance with a work zone traffic management plan.
Implement Traffic Control Plans
Implement a work zone traffic management plan in the immediate vicinity of a workplace.
Prepare Work Zone Traffic Management Plans 
Design new traffic management plans and TCGS/TCP's for road works, produce major upgrades of standard plans and/or inspect traffic control plans on road construction sites.
So, do you need a traffic control plan for a project in NSW? Or, do you need plans for road closures in Sydney CBD or elsewhere in NSW? Then, for all your simple NSW or Sydney road closures, or complex traffic arrangement, you can count on us. In fact, we can help you apply for temporary full road closure and get your application approved quickly thanks to quality traffic plans! So, get in touch with us for all your Sydney traffic control plans and traffic management plans needs.
CONTACT US
EMAIL US AT: info@trafficsolutions.co.nz
SEND US A MESSAGE VIA OUR CONTACT PAGE
CALL US ON: +64 21 416 996
Absolute Traffic Management has 24/7 365 service